Young teacher loses life "while swimming in a stream" in Jaglote, Gilgit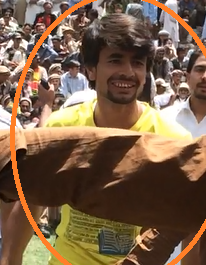 Gilgit: Sajid Hussain, the only son of Mr. Sabir from Kashbat village of Tehsil Gupis, has gone missing from Jaglote, Gilgit. He was teaching in Army Public School, Bonji.
Some sources have reported that Sajid may have drowned while swimming in a glacial stream. Law enforcement agencies have launched an investigation to ascertain facts.
The young professional had completed his education from a reputed institution of Gilgit and had recently been appointed in APS Bonji, as teacher.
He reportedly went to Jaglote and swam in a glacial stream, close to point where the stream mixes with the Indus River, before disappearing.
He is cousin of Gilgit-Baltistna's Minister for Tourism, Mr. Fida Khan.
People from Jagolte and surrounding areas have been requested to help the bereaved family by searching for the missing youth.