PTCL's apathy lamented, as volunteers unsuccessfully search for two employees buried by snow avalanche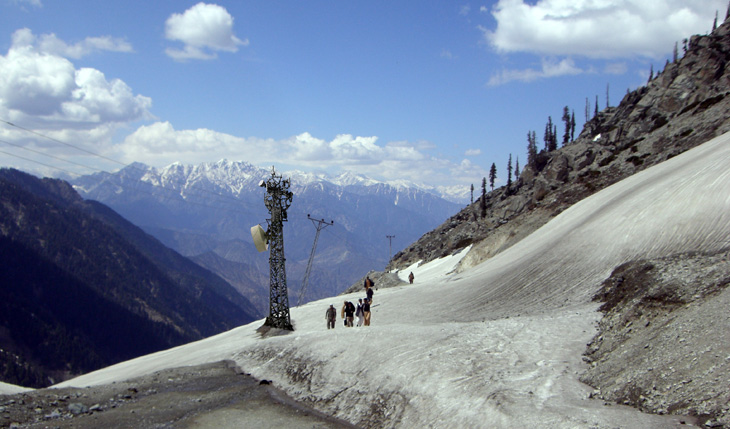 By Gul Hamaad Faroqi
CHITRAL:  Rescue operation by local volunteers and youth from the Gujar tribe continued on the second day to recover dead bodies of two people, father and son, buried under snow after a snow avalanche hit them on the Lowari top.
SHO of Ashriat village,  Inspector  Abdul Muzzafar Shah, told this scribe on phone from Ashriat, the nearest police station, that  Noor Uddin and his son Ubaidullah, residents of Naghra in Drosh, were working as watchmen of the PTCL tower on the Lowari top.
They were hit by an avalanche near the top of the snow-bound pass when they were going to work at PTCL tower at Lawari top. He said that his son in law, who accompanied them, survived miraculously and reached Police Station Ashriat to inform the police about the incident. The rescue operation started from Thursday which is still continued but due to bad weather and rain there was not success.
Independent sources revealed on phone from Lawari top that  no rescue team has officially been sent to the area, and the local volunteers may not be properly trained or equipped to conduct the rescue operation.
Haji Enzar Gul, an elder of the Gujar tribe, told this scribe from Lawari top that he requested his tribe's people and many youth reached the spot on voluntary basis to rescue the missing persons.
He lamented the "apathy of Pakistan Telecommunication Company Limited (PTCL)" for not making any efforts to rescue people guarding its installations.
Enzar Gul appealed to the federal  and provincial government, and FOCUS Humanitarian Assistance, as well as district administration, for deputing trained rescue officials to recover the dead bodies.
An expert, who wanted to remain anonymous, said that chances of recovering the missing people alive was really thin because of the heavy snowfall and also because 24 hours had passed since they were buried by the snow.