Sense of exclusion prevails in Gilgit-Baltistan as the nation casts ballot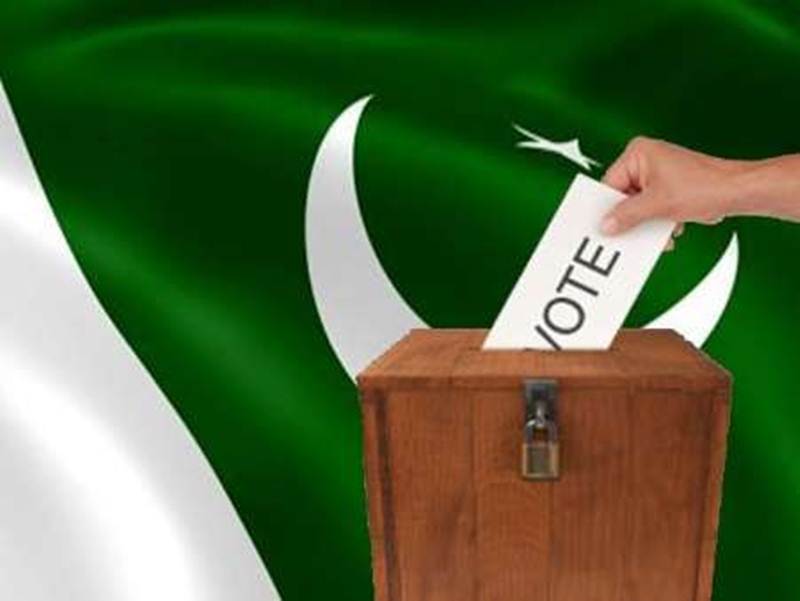 Islamabad/Gilgit/Skardu: More than 100 million voters will cast the ballot today, electing leaders who will be part of Pakistan's legislature and executive. The 1.5 million people of Gilgit-Baltistan will not be able to cast the ballot, because they don't have the right to send their elected leaders to the national parliament.
While active in different federal parties, there's nothing that the residents of Gilgit-Baltistan can don the "D day". They may join their fellow citizens in celebrations, or lamentation, depending on the results.
Many people in Gilgit-Baltistan have taken to the social media to voice their resentment and dissent through Facebook status updates, sharing of memes, video messages and calls for reflection.
"No right to vote, but I support change in Pakistan", posted Mirza Hassan, a Karachi based resident of Gilgit-Baltistan.
"Good luck and Godspeed to the liberal, secular and progressive parties and candidates, who are the only hope for Pakistan … # Elections2018 # BilawalBhutto # JibranNasir # AmmarRasheed # PPP #AWP", posted Naeema Gul, based in Islamabad.
"JANAY KIS JURUM KI PAYII HAS SAZA YAAD NAHI …… 25 JULY VOTE DAY FOR ALL PAKISTANIS EXCEPT GBIANS …", posted Nahida Kiran, using capital letters.
Others are sharing memes, mocking the exclusion of Gilgit-Baltistan from the electoral process.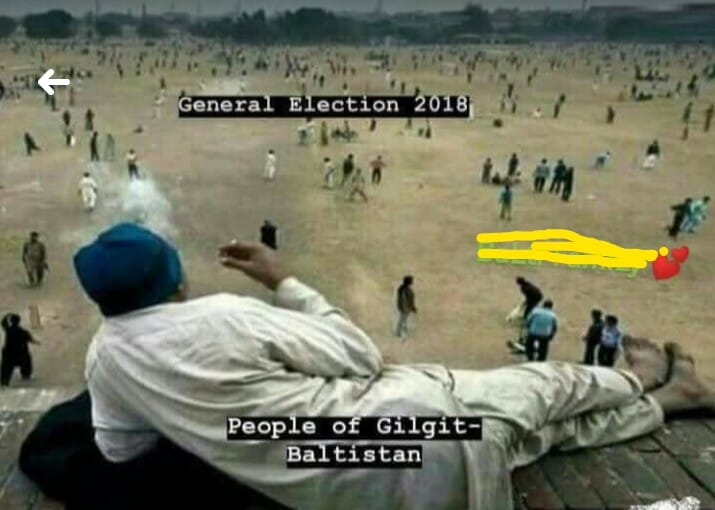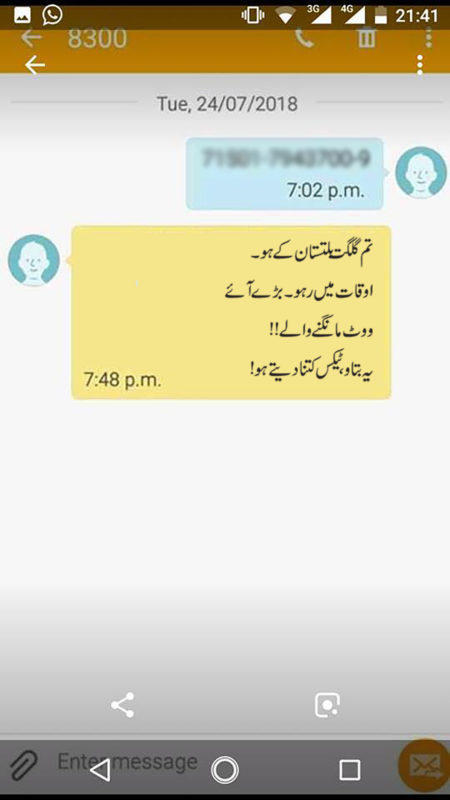 Many others have changed their display pics, to show support for their favorite party of candidate.
A large number of people are also busy sharing campaign material, and other propaganda material against opposition parties, or in favor of the favorite party.
Many residents of Gilgit-Baltistan based in Karachi and Islamabad on a permanent basis are registered voters in their constituencies, and they are able to vote.
WHY GILGIT-BALTISTAN CAN'T VOTE?
Pakistan considers Gilgit-Baltistan to be a disputed region, connected with the Kashmir issue. Therefore, the region has no representation in the lower and upper houses of the parliament, the top judiciary, ECNEC and the National Finance Commission.
The residents of Gilgit-Baltistan don't consider their region disputed; they say that their forefathers fought a war, won it, and freed their region from the Dogra/Kashmiri occupiers. Most of the residents have been demanding complete citizenship rights, and representation in the parliament, but Pakistan has constantly been ignoring such demands.
Gilgit-Baltistan elects a regional assembly, which can't make any significant legislation; most powers are vested in the Prime Minister of Pakistan, who is not elected by the people of Gilgit-Baltistan.