Diamer Search Operation: Policeman martyred, militant "commander" killed by locals, 16 suspects arrested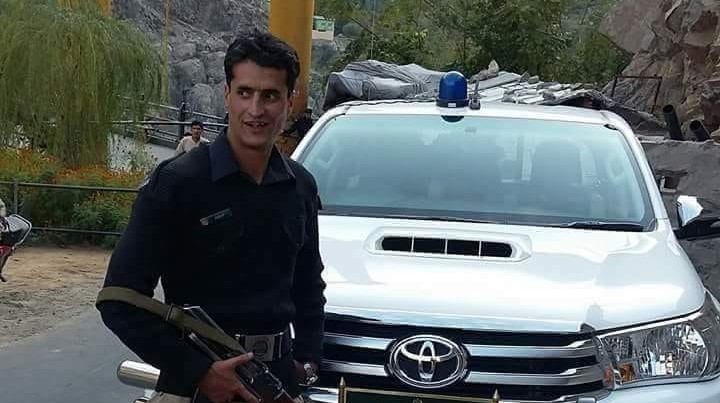 GILGIT/CHILAS: A police official, Arif Hussain, was martyred while fighting against suspected terrorists in the remote Tangir Valley of District Diamer. Another police official, identified as Kiramat, was injured, as police continued a search operation to trace the terrorists involved in burning down of 14 schools.
According to details, a small team of police led by a Station House Officer (SHO) surrounded a local cleric's house in Tangir Valley, and an exchange of fire ensued at around 8 pm last night. The heavy exchange of fire continued for up to 30 minutes, say local sources. As a result, constable Arif Hussain was martyred, and constable Kiramat got injured. The owner of the house, identified as Fazal Khan, along with two suspected terrorists, Ubaidur Rehman and Saeed-ur-Rehman, were arrested. The police couldn't go inside the house during the night, after one of their colleagues lost his life, and another one got injured.
Armed locals, on hearing about the attack on the police force, surrounded the house of the cleric and set a siege throughout the night. In the morning, when a suspected terrorist named Shafique ur Rehman, who is believed to be the prime suspect involved in opening on the police force, was trying to flee, the locals shot him dead.
Shafique was known as "commander" in the area. There are no reports about his association with any known militant or terrorist groups.
Meanwhile, another school was torched in the Phuguch village of Darel Tehsil, taking the total number of attacked schools to 14.
16 other suspects were arrested by the police during raids from different parts of the district.
IGP Sanaullah Abbasi has said that the operation will continue till arrest of all the terrorists and their supporters involved in attacks on the schools. The search operation is being conducted by the police force. The army has not been deployed.
Pakistan Army's regional commander (FCNA), Major General Saqib Mehmood Malik visited different parts of Diamer to observe the situation. He has urged the local tribal elders to identify the miscreants. He has also said that the terrorists will be eliminated.
During the day, elders of Diamer, including members of the regional assembly – GBLA, and other political and religious leaders, told government officials that the miscreants are an enemy of the people of Diamer. They have urged the authorities to take conclusive action against the militants and their supporters.
Education department of Gilgit-Baltsitan also convened a meeting in Chilas, in which school principals, headmasters, DDO, DEOs and other higher officials discussed the situation and resolved to carry forward the goal of spreading education. They said that the coward acts of the terrorists will not scare them, and that they will work with more zeal in the future to educate the children of Diamer district.