Education expo and seminar held in Yasin Valley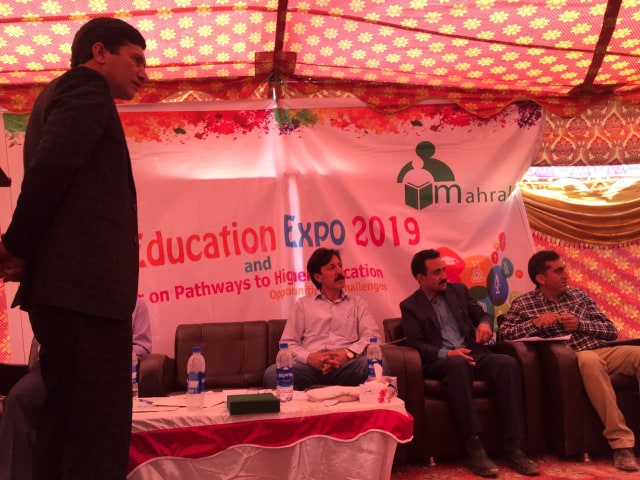 ---
GHIZER: Yasen-e-Mahraka conducted an education expo-cum-seminar on opportunities and challenges in the educational sector on Saturday at the Yasin Higher Secondary School, Tause.
Speakers shed light on the importance of career counselling, guidance and finding the right scholarship opportunities along with awareness on social issues in the era of technological advancement. The Secretary, social welfare, Government of Gilgit Baltitsan, Mr. Momin Jan graced the event as a chief guest.
The event proved to be a great opportunity for students and their parents where they interacted with experienced professionals and university graduates from different local and foreign educational institutions. Hundreds of students and parents from all the villages of sub-division Yasin participated in the event.
Speakers told the school and college students to keep themselves aware of all opportunities and challenges in the competitive educational environment. They requested the parents to provide a better learning environment for their children so that they would joyfully take their studies ahead without any stress or compulsion. An exclusive session on mental health was conducted by Javed Iqbal who is a mental health and behavior change professional.
Participants admired the hard work and efforts of Yasen-e-Mahraka members who took this great initiative to pay back for the community in the form of services in education and social welfare of the people.
Describing the importance of this event, Engineer Shah Khan, an active member of the Mahraka, who played a key role in making this event possible, said that he joy knows no bounds when he sees his youngsters being guided and counseled about educational opportunities back in Yasin. "No doubt, there are many challenges for students back in the region but I see them doing great under the guidance of their seniors and honest community workers", he said. He added that the land of Yasin is fertile in producing great minds like Adil Shah, who performed brilliantly in AKU-EB, made it into LUMS, graduated from there with flying colors and through Fulbright scholarship, he reached Georgia Tech for his masters and now he is in a process of going to Cambridge for his doctorate studies.
Yasen-e-Maharaka (YM) is a platform of the professionals and students of Yasin who are committed to the uplift of quality education along-with reviving and promoting the culture of the region. It is being managed and administered from Islamabad under the auspices of an active group of professionals and students belonging to Yasin. Through this platform, the members of Mahraka aim to contribute in the process of social development in Yasin region by motivating, mobilizing and channelizing capacities of students and professionals.