"Climate change played significant role in last year's floods in Gilgit-Baltistan": GBDMA Official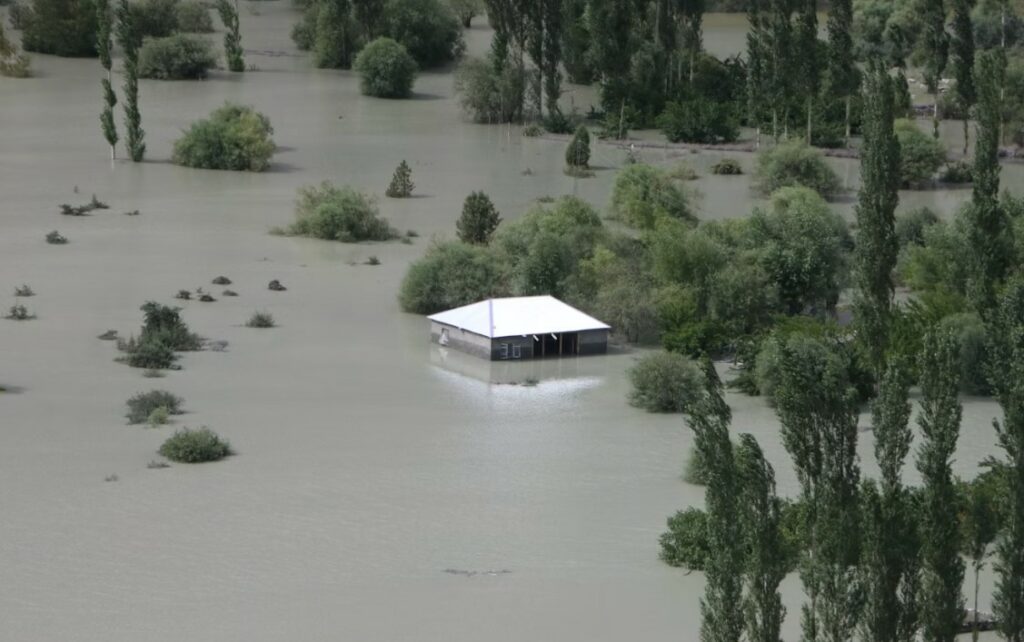 ---
Sarwar Hussain Sikandar
Rise in temperature is causing accelerated melting of glaciers in Gilgit-Baltistan. Experts have expressed concerns about the possibility of further flooding in the region later this year and in the future.
The U.N.'s World Meteorological Organization (WMO), in its latest annual assessment , has warned that there is a 66% chance that annual mean global surface temperatures will temporarily breach the threshold of a 1.5C rise above pre-industrial levels. This would be the first time in human history that such a rise had been recorded.
In 2022, Gilgit-Baltistan's Ghizer district experienced a devastating flood originating in glaciers. The flood caused seven deaths and four injuries, while around 28 houses were destroyed. Roads, bridges, crops and livestock and other infrastructures were also heavily damaged.
Similarly, Bubar village saw the complete destruction of 32 houses, while an additional 30 houses suffered partial damages, as a result of a flood. 10 lives were also lost, while three people sustained injuries.
Immit area of Ishkoman witnessed the destruction of 60 houses. Darmandhar village and Dahimal in Gupis saw 20 houses getting washed away. 40 houses were destroyed by the flood in Yasin Tehsil.
Like Ghizer, all ten districts of Gilgit-Baltistan were affected by these floods, causing widespread destruction and long disruption of lives.
Khawaja Junaid, an officer of the Gilgit-Baltistan Disaster Management Authority, emphasizes that climate change played a significant role in the floods experienced in Gilgit-Baltistan last year. He further explains that 50,000 people were forced to migrate from their homes due to the floods, resulting in an estimated loss of ten billion rupees. Unless appropriate measures are taken, more people will be compelled to migrate. Khawaja Junaid attributes climate change to natural processes, changes in the ozone layer, greenhouse effects, and climate-forcing events such as volcanic eruptions and earthquakes. Additionally, human activities such as deforestation, coal mining, extensive fuel usage leading to air pollution, and industrial processes contribute to climate change.
According to environmentalist Hassam Uddin, Pakistan, including Gilgit-Baltistan, may not be primarily responsible for climate change, but it is undoubtedly bearing the brunt of its effects. Industrial development has had a profound impact on the environment, and humanity is now facing the consequences. By adopting sustainable lifestyles, we can mitigate the impacts of climate change.
Zaheeruddin Babar, Deputy Director of the Gilgit-Baltistan Disaster Management Authority, states that GBDMA is actively working to address climate change issues through the GLOF-2 project. Workshops and awareness campaigns are being conducted in all districts of Gilgit-Baltistan. GBDMA is also installing safety walls along river channels prone to flooding, as part of their efforts to reduce the risks associated with climate change.