Biking to the Extreme North – [Part One]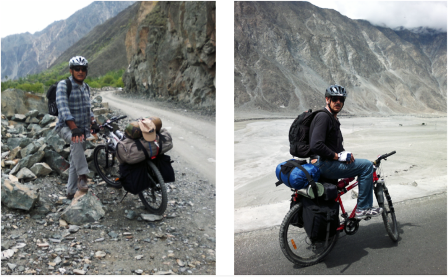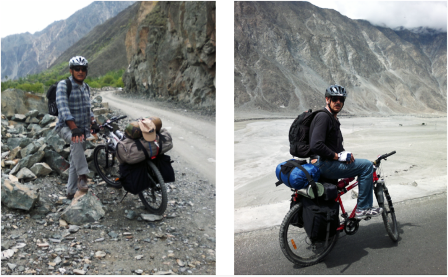 The writer and his friend, Shahid (R), on the Karakuram Highway 

Kaiser Tufail
I
f you have heard people claiming to have travelled inPakistanfrom 'one end to the other,' take it as no more than a figure of speech.  I thought such a sweeping contention should, for a start, entail a boat ride to the fabulous Astola Island in the Arabian Sea, thirty miles south-east of Pasni; and, no amount of travelling inside Pakistan's heartland can be considered complete unless the sojourn is rounded off with the ultimate feat of reaching the northern-most latitude of the country.  That extreme geographical point was the goal of our two-man bicycle expedition last May, so we could proudly flaunt our 'end-to-end' travel credentials.
Most ordinary maps show a small kink jutting into China, a few miles north-east of the point where Pak, Afghan and Chinese borders meet, being aptly described by the British explorer Colonel Schomberg as the 'solar plexus of the mountain system of Asia.'  Astride the kink is the 15,840-ft high KilakPass, which fans out northwards into a sprawling snow-clad pasture.  Here, herdsmen from Pakistan's northern-most villageof Misgarcome to graze their sheep and goats, when the melting carpet of snow starts to uncover the rich herbage in May.  Up to the end of the 19th century, the pass was infrequently used by traders from Gilgit and Hunza to sell dried fruit and, of all items, wretched slaves – with the acquiescence of the heartless local rulers – to caravans plying between the fabled oasis towns ofWestern China and Afghanistan's Badakhshan province, and beyond.  Much of the goods fromChina, however, came through the closerMintakaPass and, included silks, printed textiles, carpets and jade products, mostly destined for the ruling elite of the region.  Like most mountainous passes, Kilak and Mintaka were also notorious for being hideouts for brigands to waylay caravans laden with those exotic wares.  Some of the infamous outlaws of Gilgit and Hunza had spent their useful years prowling the crags and defiles of these passes, while living off the land in the company of wild animals and, lashed by bitterly cold winds.  I could almost hear the nervous whistles of marmots scampering about at the snarl of a hungry snow leopard in that mountain vastness, as I started to plan the expedition.
When I broached the subject with my friend Shahid Dad, last year, he seemed sufficiently enthused.  "Would you be willing to bike all the way from Gilgit to the extreme north ofPakistan?"  I inquired carefully, lest he take it as an indolent suggestion.  The strong fighter pilot bond we had shared in yesteryears came through when he emphatically replied in the affirmative.  When he added in his usual scholarly manner, "Age doesn't matter, the heart is still young," I knew I could take comfort, knee joints and all!  It was summarily decided that Shahid would be returning fromBostonthe following May, especially for this expedition.  I promptly purchased lightweight mountain bikes for the two of us from Nila Gumbad,Lahore's crowded cycle mart.  Getting those 'retired' muscles back to vigorous work was a challenge, and the coming months saw me pedalling feverishly every morning on the outskirts of Lahore, while Shahid was mostly confined to a gym due to severe cold weather in Boston.  The expedition was to last a full fortnight, from Gilgit up to the northern limits ofUpperHunzaValleyand back in 50-km daily stretches, so the demands on endurance and stamina had to be painstakingly catered for.
While physical conditioning was underway, the equally important planning aspects were looked into, critically.  Choice of route, basically dictated by suitable night stops, was followed by selection of nearby inns, motels or camping sites; geographical coordinates for GPS, climb gradients, astronomical and weather data were then gathered.  Most important, satellite pictures from Google® earth, which could be viewed in amazing 3-D ground-level panoramas, were downloaded, carefully analysed and then uploaded into our mobile phones for enroute correlation.  With a Mandarin vocabulary limited to nin hao and xiéxié, explaining a border violation to Chinese guards would have been a disaster; good navigation was, thus, the key to a successful mission.
The problem of Acute Mountain Sickness also had to be tackled.  The earliest mention of this sickness is known to have been made by a Chinese official by the name of To Kan in 32 BC, while he was touring in the vicinity of theKilakPassitself.  "A man's face turns pale, his head aches, and he begins to vomit," observed To Kan.  This malady afflicts even the very fit mountaineers if the rate of vertical traverse is more than 2,000-ft in 24 hours, above an elevation of 8,000-ft.  Such a situation was going to be encountered during our last leg, so we decided to break it up at the half way point.  With the vitals adequately taken care of, we were rearing to go.
————————
Part Two (2/4) will be posted on Thursday, 14th June.