Officials of the GB Chamber of Commerce arrested, stopped from "marching towards China"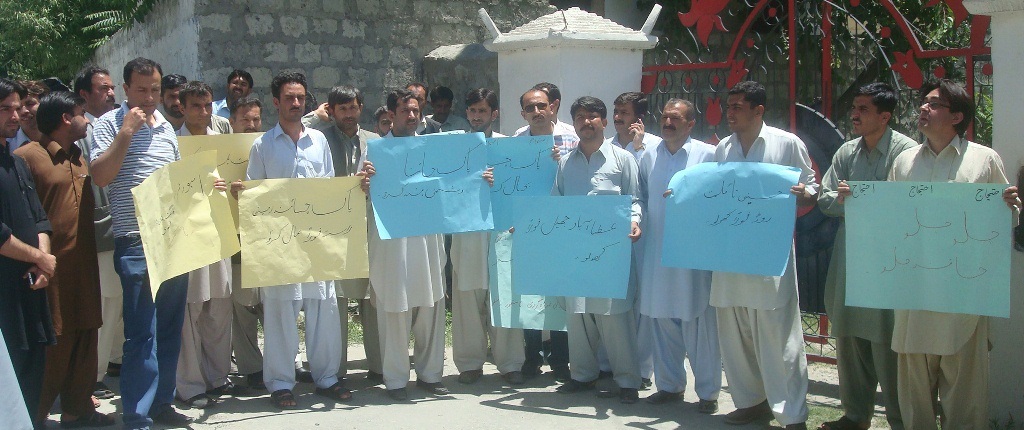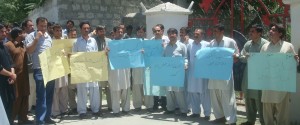 Gilgit: Traders protesting against detention of chamber officials in Sost
Our Correspondents
Sost/Gilgit, June 16: 11 members of the GB Chamber of Commerce, including President Javed Hussain, were arrested early morning today, foiling their attempts to march towards China in protest. The detainees have, reportedly, been shifted to Gulmit Police Station. According to reports the traders have been detained on the charges of locking official buildings and trying to stop a Kashghar-bound bus.
Meanwhile, police officials also thrashed journalists. According to one video SHO of Gulmit police station could be seen attacking cameraman Mueez Shah of SAMA TV.
The traders had also threatened to march towards China if their demands were not met. Their demands include waiving of loans and taxes, drainage of the dammed Hunza River and construction of the destroyed portion of Karakuram Highway between Hussani and Attabad.
Some people blame the traders of exaggerating their losses and trying to make money by pressurizing the government and administration.
Traders in Gilgit held demonstrations against detention of the Chamber officials and demanded their immediate release. The protesters were also addressed by PMLN Chief Organizer, Hafiz Hafeezur Rehman and MLA Mirza Hussain, both directly or indirectly involved in trade with China. Both the leaders expressed solidarity with the traders and demanded of the government to fulfill their demands and compensate their losses.