Corps Commander inaugurates 140 km long link road to Burughil Valley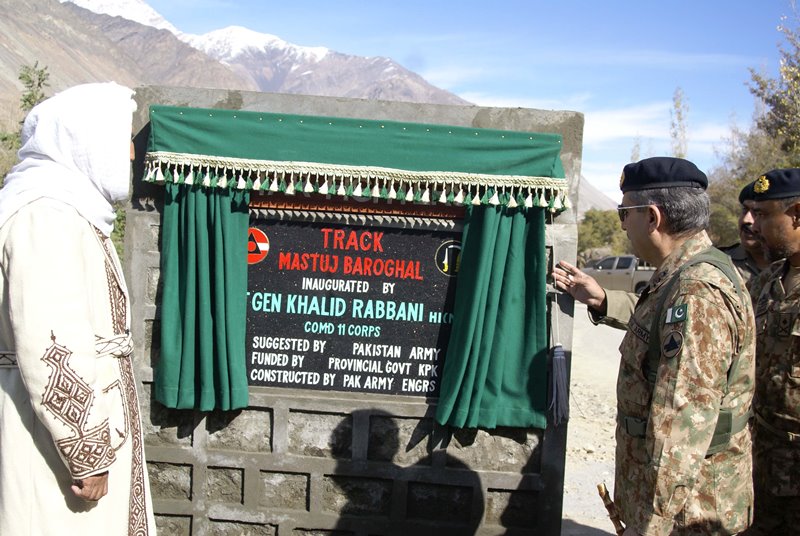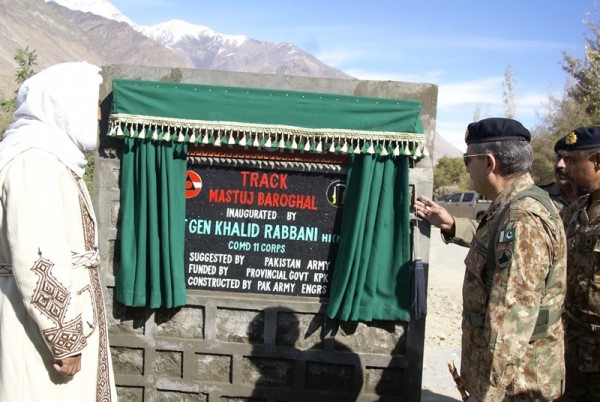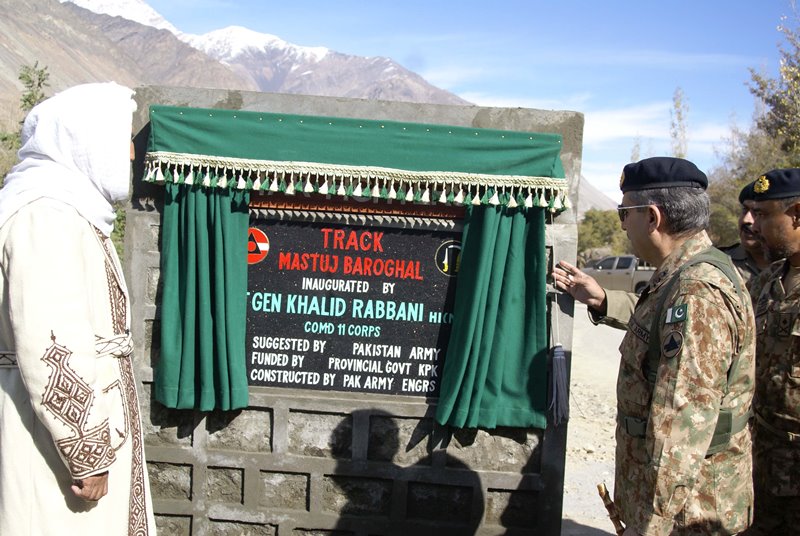 Gul Hammad Farooqi
Chitral, November 10: Corps Commander 11th Corp Lieutenant General Khalid Rabbani inaugurated the Burughil Road in the Yarkhoon Valley of upper Chitral. Completed at the cost of 158.7 million rupees, the 140 KM long road will link the Burughil Valley with the rest of Chitral, bringing an end to centuries of isolation. Burughil is the last valley of Chitral near Afghanistan border.
Notables of the area welcomed the Corps Commander on his arrival in the region. Haji Muhammd Dawood presented Chitrali cloak and cap as traditional gift to Corp commander. Speaking at the occasion the locals of Mastuj valley demanded extension of development projects to the region. The locals also complained about corruption in different projects, including the construction of Booni-Shandur Road.
Addressing at the occasion the Corp Commander said that inauguration of the road is the first step towards development of the region and this road will be termed as milestone for uplifting of this backward and neglected area. He said that the people of Burughil got linked with other parts of Chitral after 60 years of the creation of Pakistan. He appreciated people of the region for hoisting and honoring the flag of Pakistan despite of all their deprivations. He said that the people of Burughil were real patriots.
The Corps Commander said that he was shocked during his previous visit to the region when he came to know that the people of Burughil reach Chitral in 5 days during the summer season and the road remains blocked in winter due to heavy snowfall.
He hailed the people of Chitral for their peacefullness, loving nature and stressed on them to discourage miscreants and not allow them space in the region.
Prayers were also offered for the soul of Sadiqullah Shaheed who lost his life during construction of the road. The family of Sadiquallh also received a chequ of 500,000 rupees as a compensation for the loss of life. The role of 104 Engineering Corp of Pakistan Arm for completion of the road was also highly appreciated.
The Corps Commander directed Brigadier Arif of Engineering Corp to complete the remaining portion of the road. He said that we will try to allocate fund for next annual development plan for including more developmental schemes of this backward area.
The Corp Commander later flew to Burughil valley in a military chopper and was greeted by the local people, who thanked the Pakistan Army for construction of the road. They also demanded construction of the remaining 16 Kms of the road, which will enable linking of the last corner of Burughil Valley.
The Corps Commander directed Deputy Commissioner Chitral Muhammad Shuaib Jadoon for giving priority in recruitment of Border Police and Levies to the people of the remote valley.