[Pictorial] CM Mehdi Shah spent a busy day in Hunza-Nagar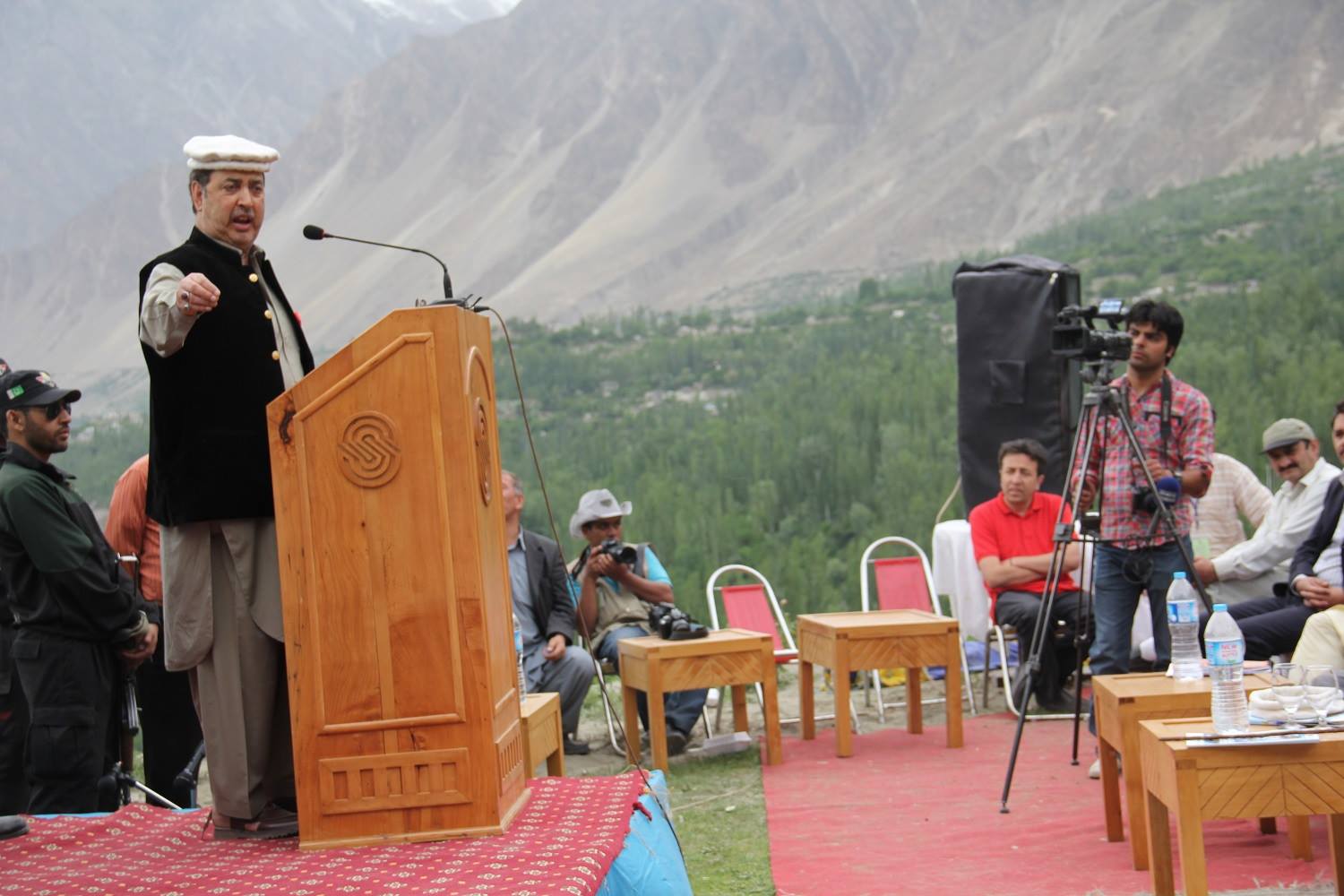 PT Report
Photographs: Hussain Nagri & Mueez Shah 
Gilgit, June 11: Chief Minister Syed Mehdi Shah visited the Hunza-Nagar district today along with the Speaker GBLA Wazir Baig, GB Council Member Ibrahim, Finance Minister Muhammad Ali Akhtar and others.
He distributed certificates and prizes among graduates of an ICT based training organized by Karakuram Area Development Organization (KADO), in Karimabad, Hunza. Speaking at the occasion, the chief minister said that the people of Hunza are highly literate and that he mentions them with pride in other parts of the country as an example of a developed community. He also hailed KADO's efforts for rehabilitation of special people, promising to provide funds for the organization's projects. A number of items were also presented by students during the event.
The Chief Minister also visited an exhibition of handicrafts and appreciated the women for using their skills to support their families.
Speaking at the occasion CEO of KADO, Mubeen Muhammad, discussed the various projects initiated by the organization. He also demanded of the CM to play a role in extending 3G and 4G mobile technology to the region. He also urged the government to link Pakistan with China through the Optic Fiber to support the region's economy.
Mehdi Shah promised that he will talk to the federal government about extension of the 3G and 4G technology to Gilgit-Baltistan.
Later, the Chief Minister visited SAS Valley – a collective nme for Shayar, Asqurdas and Summayar village in the Nagar sub-division – where he inaugurated a number of development projects and promised to initiate many other projects, responding to demands of the people.
Speaking at the occasion, the CM paid rich tributes to late Quran Ali, who was a renowned leader of the Pakistan Peoples Party in Gilgit-Baltistan. He said that while the PPP candidate had lost from the constitutency, he is inaugurating projects and promising to build more in the months ahead. He said that the PPP government on this day gave more to the constituency than the elected member was able to gain in four and a half years.
On arrival in Sumayar valley, the Chief Minister was warmly welcomed by the local people. Small kids showered floral petals on him while the elders of the area greeted him with traditional zeal.
GB Council member Ibrahim also spoke on the occasion, along with Zulfiqar Ali Murad, Fida Hussain and Yasmin Fida Ali, PPP's regional leaders. They presented demands of the region's populations, while also thanking the Chief Minister for visiting and inaugurating the projects.